In line with our continuation of the Artist Exposé, we are thrilled to introduce Andrea Larko.
Andrea hails from Indiana, Pennsylvania (USA) and has a BFA in Illustration from the Rochester Institute of Technology. "I love to draw and paint. I combined my two loves of fly fishing and art and decided to paint and draw mainly outdoor scenes, fish and pets".
Do you fly fish and if so, what is your favourite species to catch?
Yes, I fly fish. My favorite and most common species to catch are brown trout. I'm usually out chasing trout a few days a week when the weather agrees and over the last 5 years that I've been fly fishing I'm just beginning to figure out the flies I need, and the sizes that work for certain times of the year, times of day and with certain water levels and clarity. I think that's the majority of the fun, as well as the frustration at times, but when I have a fish on, it's all worth it. Obviously there are days that go by where there are no fish, but I still get to see the beavers play and the deer crossing the stream above me. I get to watch the trout rise and I get to play in the water like when I was a kid, but this time looking for what insects are attached to the underside of the rocks. I hike up or downstream looking for new hiding spots where the fish may not be so skittish and although my intentions are always just to get on the stream for even an hour or so, I'm always there until darkness falls. When the noises around the stream turn from peaceful ambience to something I swear I've heard in almost every horror movie that happened in a forrest, I know I should have left 10 minutes before.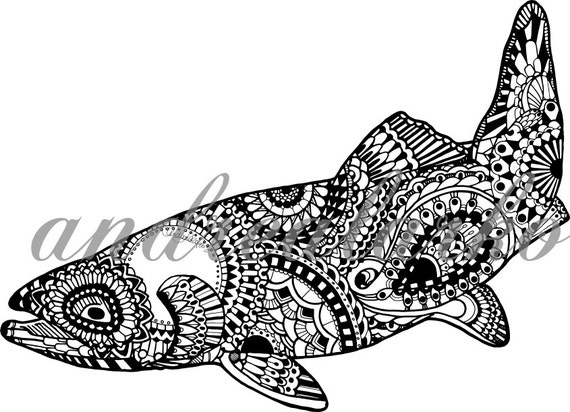 Which came first, the fishing or the art?
I can't remember exactly which came first. I've been drawing and fishing both for as long as I can remember, but as I just mentioned, I only started fishing on the fly around 5 years ago. Both of my parents fished and taught me and my 3 sisters how to cast a rod. Although my earliest fishing memory was trying to cast a rod and when I tried to release my thumb to let the line go I ended up letting go of the entire rod to my surprise. Needless to say, my father went in after it and I got 'back on the horse'. The fish art however, didn't start until about a year or so ago when I wanted some work to hang in my fly tying area. It all snowballed from there. I've always had a fascination with art though, it's a piece of me that I can't ever silence, nor would I want to. Art was something that ended up everywhere around me, from every margin in my notebooks through school to my clothing and even drawing on myself when I didn't have a sheet of paper. It was always just…there. I never had a very clear focus though. I loved to try new styles and techniques, so most of my work through high school and college didn't even look like it was done by the same person. The only thing the majority of it had in common was bright colors. I found out in college that I'm color deficient, meaning that most of what I see, is bright colors, or shades of gray. Pastels fade to me and look like just another shade of gray, so I don't use them much in my artwork. I think it also makes my work more whimsical. We have to be so serious in so many aspects of our everyday life that I don't think art has to be something so pretentious and regarded as some people view it. But that's the fun part, like anything else, it is what you make of it, and I choose to make my art fun. It makes me smile. I want it to make other people smile too because everyone needs to smile more often.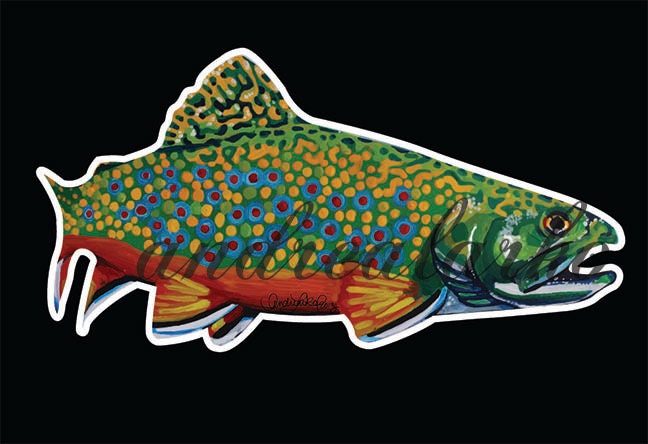 What is your favourite subject to paint / draw? My favorite subject to paint and draw are fish. Obviously, as a fly fishing artist, I enjoy drawing fish, but I like to draw them more to show people the beauty I see in something that many people just don't take the time to see. As a fisherwoman, before I release a fish I always try to take a photograph, because there isn't enough time to truly appreciate just how spectacular the fish are until you get to see a still photograph.
Tell us about your greatest your inspiration?
Some of my greatest inspirations are Mucha and Monet and Jenkins although I don't believe any of that shows through in my work. I just like to draw and paint with the style that I'm in the mood for, and the zentangle fish designs were a happy accident. I've been doing zentangle (what I used to refer to as doodling) since elementary school. It was only a matter of time before the two combined in my sketchbook one evening.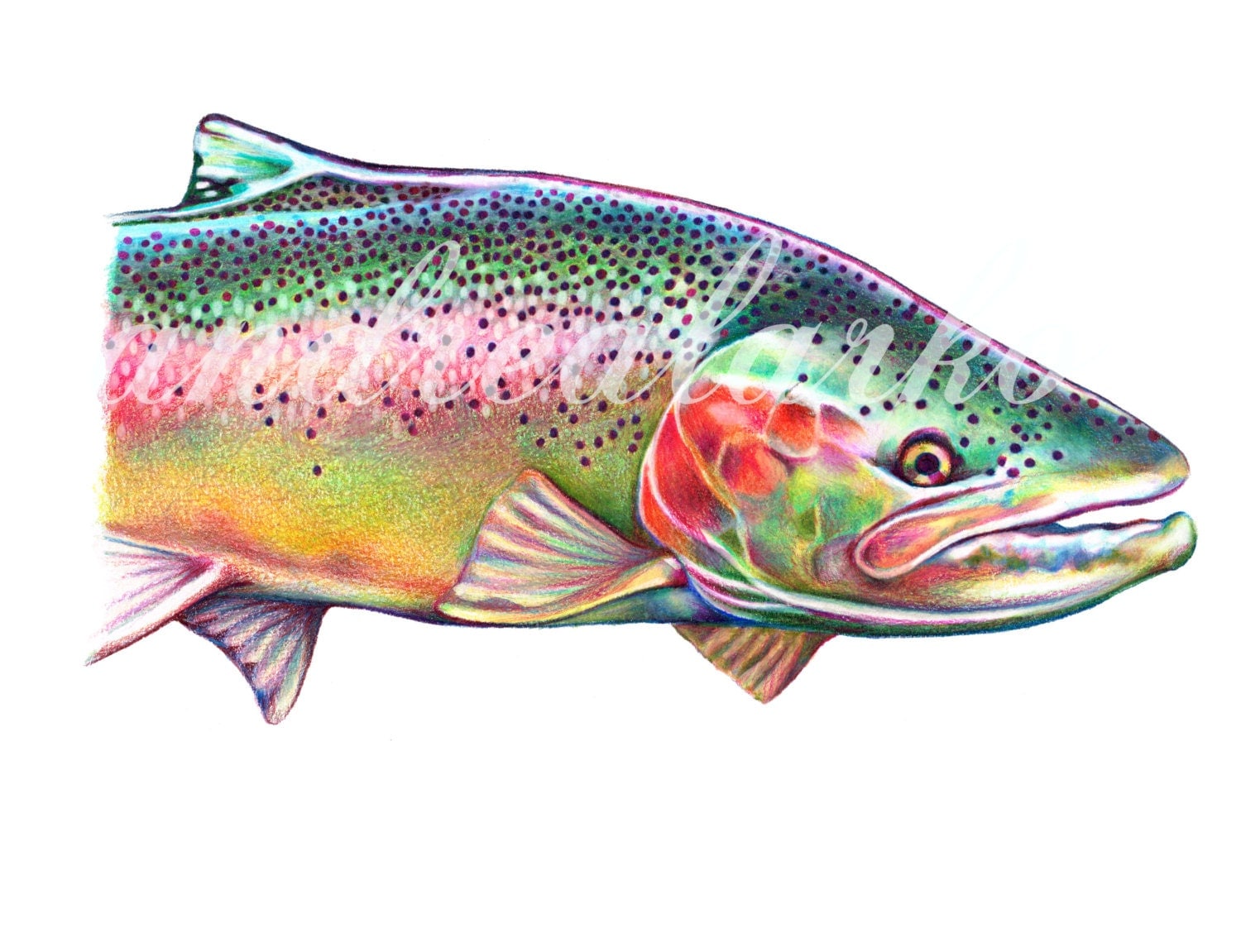 Your ideal fly-fishing destination?
I want to fly fish Alaska. I'm sure it's a pretty common answer, but it's the truth. I remember watching the videos my father brought back from his trips to Alaska when I was younger and it always seemed like such a spectacular place.
Where would you locate your dream studio and whom would you invite around for a drink?
I'd locate my dream studio on a Greek island. When I visited the Greece I fell in love with the sea and the island I stayed on, Poros, was the most peaceful place I've even been. Anyone who would want to come for a drink would be more than welcome!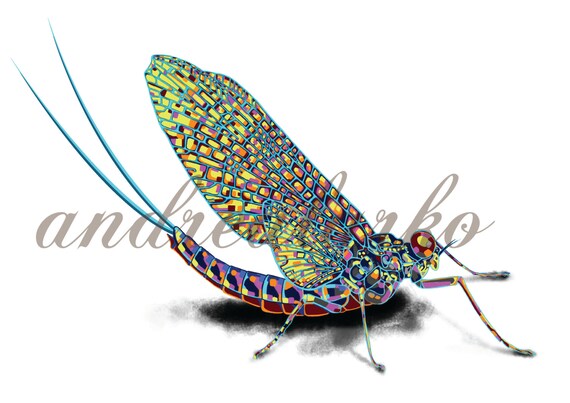 Would you get a tattoo of your own work?
Yes I would and if I didn't keep changing my mind on the next tattoos I want I would have more.
Where can readers purchase your work?
I have an etsy site where my work is available to purchase www.andrealarko.etsy.com
Thanks for your time Andrea!